ブログ
4.142018
Information for foreigners watching this page.
Information for foreigners watching this page.
Nice to meet you, we are doing idol activities in Japan.
The name is "Sha☆in".
Smile happy all inclusive
S h a in
The name combines these letters.
It means to bring everyone a smile and happiness together.
We usually operate in Okayama city, Okayama prefecture.
Okayama city is located about 200 km west from Osaka.
We have a private live house,And we are performing every Sunday.
** introduce members **
Group leader, Manami Hoshikawa 19 years old
And Miyuu Sera 18 years old
And Kurumi Miura 17 years old
And other trainees.
Member have twitter account,Please follow the members.
Manami account is @shain_manami
Miyuu account is @Shain_miyuu
Kurumi account is @Shain_kurumi
** more infomation **
We sometimes broadcast live concerts on the internet.
You can see it smartphone application SHOWROOM.
You can see it even on a personal computer.
The application is free.
Detail is
https://www.showroom-live.com/
Please look.
The pages have English, Chinese, and Thai.
Our live room address is
https://www.showroom-live.com/sri-9732
Before doing live, members announce you on Twitter.
** Important Notices **
There is an event at SHOWROOM from April 15th to April 29th.
We are joining the event.
Please collect a lot of free stars in SHOWROOM live.
And please throw many stars on our live.
Thank you for your support.
Sha☆in Project
公式ショッピングサイト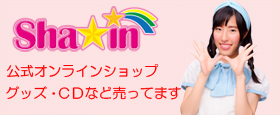 ---
配信色々やってます。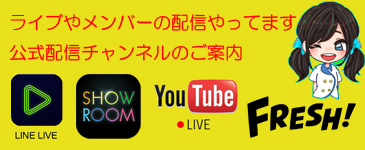 ---
ホール貸し出しやっています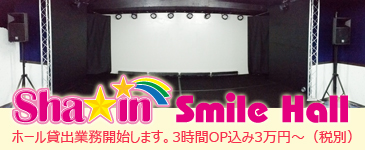 ---
---
テレビせとうちで紹介されました
---
Sha☆in PV 「僕は君を全力で笑顔にする」
---
Sha☆in PV 「苦手な 3STEP JUMP」
---
Sha☆in PV 「歩いていこうよ」
---
Sha☆in PV 「ミエナイカラミライ」
---
Sha☆in PV 「ずっとZooっと」
---
公式フェイスブック
---
公式ツイッター
Follow @Shain_official
Tweets by Shain_official
---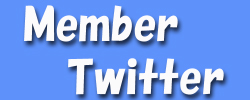 Follow @Shain_manami
Tweets by Shain_manami
---
Follow @Shain_miyuu
Tweets by Shain_miyuu
---